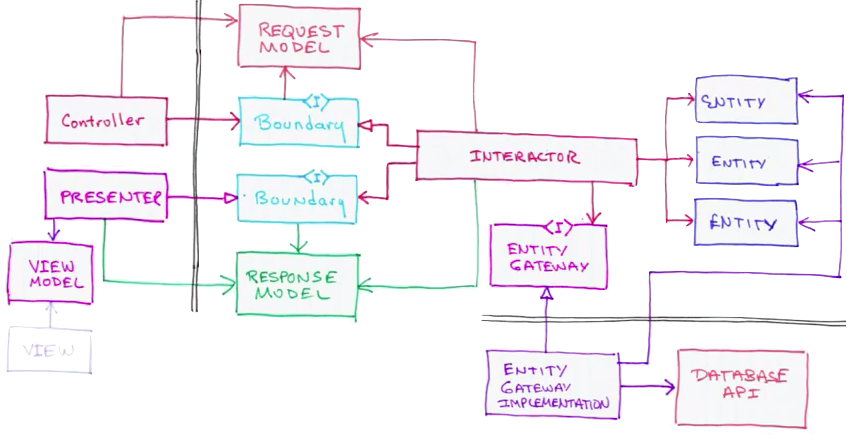 Keynote: Architecture the Lost Years by Robert Martin @ Ruby Midwest 2011
(also on YouTube … and a few weeks later, without slides , on The "A" word. A Discussion About Architecture in a Software Craftsmanship conference )
Images clipped together from…
The "Presenter" and "View Model" at 35:28
"The whole Enchilada!" at 37:50
"The Database is a Detail!" at 42:26
Elements summary:
Entities — Generic application agnostic data and business rules (e.g. Order, Customer ).

Interactors — Application specific business rules; Manipulates the relevant data from the Request Model and interacts with the Entities.

Boundaries / Gateways — Protocols or Interfaces.

Models — Dumb data structures, without methods.

Request Model
Response Model
View Model

Controllers — Convert the stuff submitted by the delivery mechanism into a delivery agnostic Request Model.

Presenters — Turns the delivery agnostic Response Model into a prepared "viewbified" data structure ready for easy manipulation by the view.

"… so the view is so stupid that you don't have to test it!"
See also Where's Your Business Logic?